The Joe Martin ALS Foundation's mission is to help families face the challenge of living actively with ALS by providing free homecare services.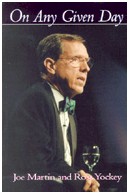 Joe Martin, banking executive and community leader, was diagnosed with ALS in 1994 and resolved to live as actively as possible.  His spirit and determination led his family and caregivers to start The Joe Martin ALS Foundation in his honor in Charlotte, NC.  The Foundation began helping people live with ALS in 2007 and it is the only organization to offer homecare at no cost for those fighting Lou Gehrig's disease (ALS).  We are committed to offering experienced quality care through research based caregiving methods.  Our staff also uses its extensive network to find free medical equipment to help mitigate the cost of healthcare.
Actively living with Amyotrophic Lateral Sclerosis (ALS), also called Lou Gehrig's Disease, is a challenge that affects families emotionally and financially.  The high cost of health care, lack of accessible transportation, and insurance restrictions severely limit the independence and quality of life of both patients and their caregivers.  Joe Martin, banking executive, community activist, and ALS patient, envisioned a foundation that could help patients and their families overcome these challenges by offering home care services at no cost.  Martin's former health care staff and his family have worked to realize his vision by forming the Joe Martin ALS Foundation.  This foundation is the first organization in North Carolina to offer free home care services to people living with ALS.