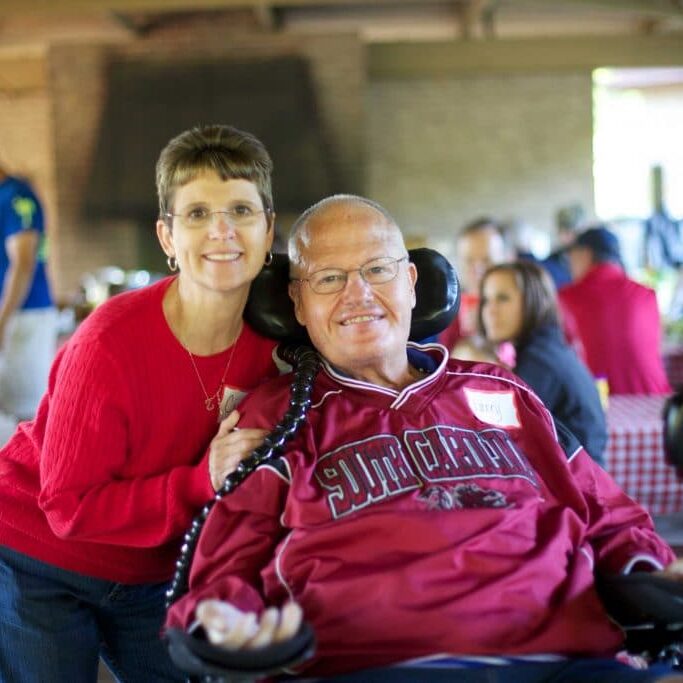 Please Call (704) 332-1929
If you are interested in learning more about the Joe Martin ALS Foundation's services, please call (704) 332-1929. The Foundation helps over 90 families per year through its programs.  It is our goal to help as many families as possible with our resources. We strive to accommodate all requests for weekly homecare, but these visits are limited to logistics and staff availability.
We are always able to answer your ALS questions, and direct you to our excellent online resource: Home Life for PALS, a video series on the Joe Martin ALS Foundation YouTube Channel. Please don't hesitate to contact us with your inquires and requests.
Atrium Health, Carolinas ALS Center
As part of the Neurosciences Institute, the Carolinas ALS Center is one of the Southeast's most comprehensive programs for the study of degenerative neuromuscular diseases. It is located in Charlotte, North Carolina.
The center is dedicated to providing patients with ALS (sometimes called Lou Gehrig's disease) with aggressive medical care, education and encouragement. This multidisciplinary team includes:
Neurologists
Neuromuscular nurses
Research staff
Pulmonologist
Gastroenterologist
Respiratory therapist
Nutritionist
Physical and occupational therapists
Speech pathologist
Social worker
Orthotist
Adaptive equipment specialistses
Visit their website to learn more, or to make an appointment, please contact:
Phone: (704) 446-1900
Toll-Free Phone: (800) 924-7620
Fax: (704) 446-6255
Hours: Monday through Friday, 8 a.m. to 5 p.m.
Address:
Atrium Health Department of Neurology
1010 Edgehill Rd. N, Charlotte, NC 28207
Atrium Health, Wake Forest Baptist ALS Clinic
The ALS Clinic, an outpatient clinic of North Carolina Baptist Hospital, aims to extend longevity and maximize patient independence and quality of life by offering specialized services to patients diagnosed with ALS.  It is located in Winston-Salem, North Carolina.
Visit their website to learn more, or to make an appointment, please contact:
Appointments:
ALS Clinic:
336-716-2309
[email protected]
Address:  Medical Plaza - Miller
131 Miller St.
Winston-Salem, NC 27103

The Joe Martin ALS Foundation's mission is to empower families as they face the challenge of living actively with ALS by providing home care and other services at no cost.
We believe a strong support net can help people living with ALS (PALS) and their families obtain the best caregiving techniques, equipment, and bolster their will to fight this disease.