Batter Up! Join in on the 2nd Annual Joe Martin ALS Rivalry Softball Challenge on Saturday, May 19 at 10:00 AM at Trinity Presbyterian Church in Charlotte, NC. Lou's Yankees and Bob's Sox will meet up to play and raise funds for The Joe Martin ALS Foundation. You can play, attend or sponsor!
Visit our event website to learn more on how you can support this event or sign up to play!
https://www.crowdrise.com/2018JoeMartinALSSoftballChallenge
The purpose of The Joe Martin ALS Softball Challenge: Lou Gehrig is widely considered one of the greatest players in the history of the Major League Baseball. From 1923 until his retirement in 1939, Gerhig played 14 seasons at first base for the New York Yankees. Renowned for his prowess as a hitter and for his durability, Gehrig played an incredible 2,130 consecutive games earning him the nickname, "The Iron Horse". In July of 1939, he gave his famous "I'm the luckiest man alive" speech where he shared with his adoring fans the news of his diagnosis with ALS, amyotrophic lateral sclerosis. Along with his wife, Eleanor, Gehrig worked tirelessly to bring awareness and attention to the disease which is, to this day still, referred to as Lou Gehrig's disease.


About Robert "Bob" Taylor: In 1966, Bob graduated from East Mecklenburg High School and was drafted by the Miluakee Braves organization. Naturally left handed, like Gerhig, Bob played first base. From 1966 to 1970, Bob played for the Braves, Cardinals, Reds and Pirates. Most notably, while playing for the St. Petersburg Cardinals, Bob played in the longest continuous baseball game in history, 29-innings, a record which stands to this day. Born in Boston, Bob is a lifelong Red Sox fan. His friends and family have joined with The Joe Martin ALS Foundation to form the first annual Joe Martin ALS Rivalry Softball Challenge to raise funds to support local families with free homecare.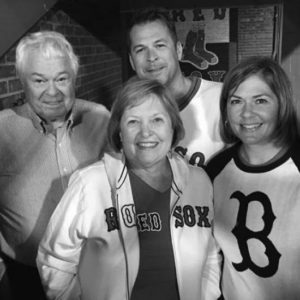 About The Joe Martin ALS Foundation: The Joe Martin ALS Foundation's mission is to help people live actively with free home care services. These include respite care, help with daily living such as bathing, meals and tolieting, wheelchair transportation, travel planning, caregiver training, online video training tutorials, volunteer assistance, care team organization and for the first time this year – Joe's Camp, a camp for kids whose family has been touched by ALS. All funds raised from this tournament will go to support The Joe Martin ALS Foundation and its services to those living with ALS.
Questions? Please contact Sarah Hayden at The Joe Martin ALS Foundation at (704) 332-1929 or sarahhayden@thejoemartinalsfoundation.org.